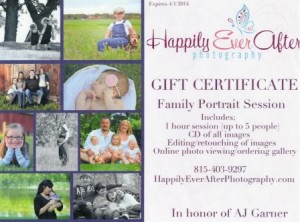 We received 2 photo session gift certificates to be used to raise funds for the 4p- Support Group, a 501c3 non-profit organization, in memory of AJ Garner who was diagnosed with Wolf-Hirschhorn Syndrome.  We have placed one of the gift certificates on eBay to allow anyone to bid on it. Please note, the photographer is located in Woodstock, IL and can travel to all of McHenry, Kane and Lake counties. The value of the session is $250 each certificate.    CLICK HERE TO GO TO THE EBAY LISTING
The money raised for this certificates will be used to help cover the costs of providing a SibShop at our 2014 National Conference.  The needs of 4p- siblings are often overshadowed by the intensive focus on the 4p- child since they have the most obvious physical, mental, or emotional needs.  The purpose of SibShop is to allow these siblings to be able to meet new friends, reconnect with old friends, play and have fun, interact and have discussions on what it is like to have a sister or brother with special needs.  This is a very important session and can make a positive impact on a sibling's life.
We are offering the other gift certificate to any individual who has been diagnosed with 4p-.  The certificate can be used to celebrate a birthday, senior pictures or pictures with their siblings and parents.  In exchange we ask that you allow us to post one of your photos from the session in our newsletter and write an article to include with it.  The article can written by their sibling about having a brother or sister with 4p- or a parent can write about anything related to their child with 4p-.  Certificate expires April 1, 2014.  If you are a 4p- family interested in this opportunity, please contact Amanda Lortz at president@4p-supportgroup.org on or before September 30, 2013.  In your message explain how you intend to use the gift certificate and include your 4p- child's name and age.  Please keep in mind this photographer is located in Woodstock, IL and you must be able to travel to her or a location within the above mentioned nearby counties in IL.  The winner will be chosen by a random drawing and announce on on before October 4, 2013.