*Article appeared in our 1st Quarter 2013 Newsletter.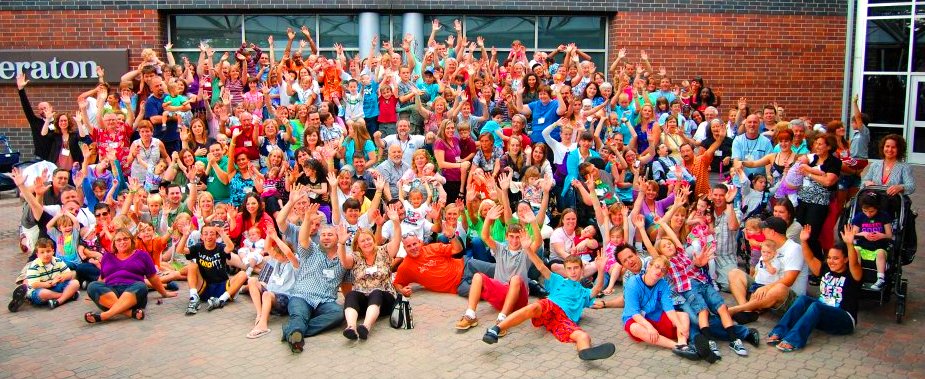 The 4p- Support Group's mission is to improve the access to 4p- information to parents, family members, and care providers of individuals who have a 4th chromosomal abnormality, most commonly Wolf-Hirschhorn Syndrome. We are the only organization with this mission that is recognized by the Internal Revenue Service as a 501(c) (3) charity.
We are more than just a group of parents that talk about our children. We are a support network in the truest sense of the word. Our bi-annual national conference attracts families from around the country, medical professionals from around the world, and provides a one of a kind experience to help educate, share, learn, and grow from. We know that at this conference we are putting together the best concentration of 4p- experts in the world…and those experts include the parents and family members we support. We also sponsor and organize bi-annual regional gatherings that help facilitate communication and information sharing among parents and care givers. It is the bonds that are formed at the national conference and regional gatherings that provide inspiration for continuing the Support Group's mission. It is because of this, that the Board of Directors sets aside funds at each conference to provide financial support so as many families as possible are able to attend.
Our mission includes education and advocacy to the medical community. This certainly happens at our national conference, but this also occurs throughout each year, and is an ongoing focus for our members. A few examples of our recent advocacy and education include the genetic counselors webinar (archived on our website), attendance at the 2011 American Society of Human Genetics/International Congress of Human Genetics annual meeting in Montreal, Canada, and our upcoming attendance at the 2013 American College of Medical Genetics and Genomics annual meeting in Phoenix, AZ.
Finally, we have formed the premier Scientific Advisory Board, chaired by Dr. Amy Calhoun, MD of the University Of Utah School Of Medicine. Through the work of the Support Group, and the Scientific Advisory Board, we have developed a working relationship with Lineagen (www.lineagen) that lead to a research study conducted at the 2012 national conference that resulted in 4p- individuals receiving chromosomal microarray analysis at little to no cost.
Your annual membership dues to the group help us achieve our important mission and support our unique and amazing community. If you have already paid your annual dues, on behalf of the Board of Directors, thank you. If you haven't, please consider joining our group today. Payment can be made on our website, or mailed to the address below. Since we are a 501(c) (3) recognized organization, your membership dues, and donations to our group, are tax deductible.
I encourage you to visit our website (www.4p-supportgroup.org) or Facebook page to see all of the activities and projects the group is currently involved in. I have no doubt that you will be impressed!
Thank you for your support!
Jim Shellenberger
Treasurer