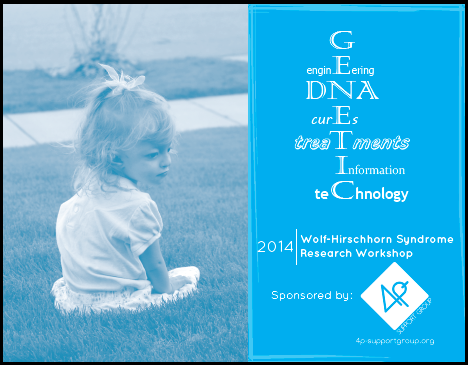 2014 Wolf-Hirschhorn Syndrome Research Workshop*
July 17th 2014, 8am – 4pm
Sheraton Harrisburg Hershey Hotel
Harrisburg, PA
Please join us for an innovating workshop to continue to define
the research agenda for
Wolf-Hirschhorn Syndrome and the relate 4p- conditions.
*Workshop is for genetic counselors, therapists, doctors and scientists involved in research on the 4th chromosome only.
About the Research Workshop
This one-day Workshop is held in conjunction with the 4p- Support Group National Conference.  The 4p- Research Workshop
is a critical component for advancing the medical understanding of WHS.  Because this genetic condition is rare
(about 1 in 50,000 live births), few clinicians see more than one or two children with this condition in their lifetime.
By pooling together experts in the field, ideas and observations can be exchanged that will improve patient care
and understanding of this unique condition.
No other meetings exist that allow for this depth of discussion regarding WHS and 4p- disorders.
The 4p-/WHS National Conference will immediately follow the workshop, July 17-20.

All workshop participants are invited.

Workshop led by:

John C. Carey, MD MPH

Amy Calhoun, MD

Lunch for Workshop attendees sponsored by:
To receive a postcard please contact amanda@4p-supportgroup.org.