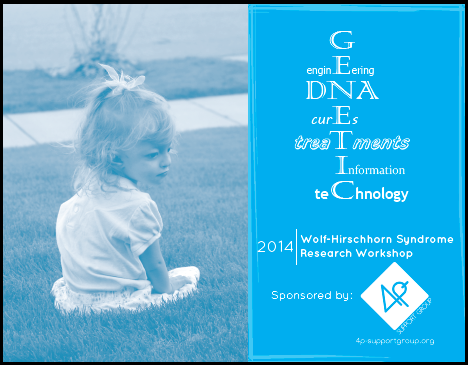 2014 Wolf-Hirschhorn Syndrome Research Workshop
July 17th 2014, 8am – 4pm
Sheraton Harrisburg Hershey Hotel
Harrisburg, PA
Please join us for an innovating workshop to continue to define the research agenda for Wolf-Hirschhorn Syndrome and the relate 4p- conditions. The 4p-/WHS National Conference will immediately follow the workshop, July 17-20.
All workshop participants are invited.
Workshop registration will open at the beginning of 2014.
Sponsored by the 4p- Support Group.
Co-Sponsored by:
Amy R.U.L. Calhoun, MD
University of Minnesota
John C. Carey, MD, MPH
University of Utah
View the postcard invitation:  (coming soon)
To receive a postcard please contact president@4p-supportgroup.org.
*Workshop is for genetic counselors, therapists, doctors and scientists involved in research on the 4th chromosome only.